#teamjoe Athlete – Dan Benham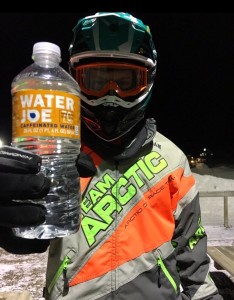 Meet Dan Benham. Dan loves snow. Dan loves the cold. Dan loves Water Joe. This guy is daring, competitive, passionate and really good at what he does. Read on!
What is a funny story about you?
About a year ago I had a pretty gnarly mullet. My whole family hated it, besides me of course. So, we made a bet. The bet was that if I didn't get on the podium I had to cut the mullet. Sure enough I pulled the holeshot and was leading the race. It should have been an easy win but I made a mistake and my sled caught an edge and flipped, end over end, 3-4 times. I wasn't able to finish the race and had to cut the mullet. It wasn't funny at the time but is now!
What is your spirit animal?
Some days I'm a friendly Panda Bear but I gotta say, most of the time I'm a Jaguar.
Tell us about your family?
I have two wonderful parents and two older sisters. My parents have been together since high school and sometimes I think they have TOO much fun. Together, they run the family electrical business.
If you could have one magical power what would it be?
I wish I was invincible. I would love to be in perfect health all the time.
What future aspirations do you have?
I want to be a multiple time Pro Open champion. I hope to have a successful snocross career and then retire.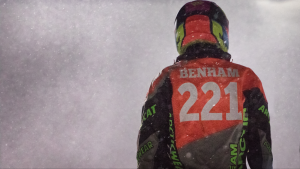 Who is an inspirational person in your life right now?
My father. I see how hard he works to provide for his family, giving us all the opportunities we could ever dream of. What I've learned from him is that I have no excuse for being anything less than successful.
We all know how important nutrition is, what is one thing you can't live without?
I can't live without ice cream. It's a weakness I will always have. Fortunately there are healthier options available.
How do you Joe?
I use Joe in my smoothies, oatmeal and just as is. Water Joe Oatmeal is my fav, I love to eat and always need a little pick me up in the morning.
What accomplishment are you most proud of?
Earning a Factory Snocross ride with Arctic Cat.
If you could do anything adventurous right now, what would it be?
Load up my snowmobile, a few Water Joe's and pound some laps.
Where did you grow up?
Deer River, Minnesota
How did you get into Snocross?
I have raced motocross since I was 4. I got sick of not being able to race in the winter so I gave snocross a try.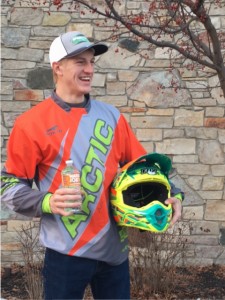 Tell us about your athletic career?
I have been racing for four years. It all started out of a back of a pick-up truck and now I've graduated to a Factory Semi.
What is the craziest thing a fan has ever done?
Once I received a video from a family who were all watching the snocross races at home. There was a little boy on the video, he was maybe 4 or 5 and he said I was his favorite rider.
What is the first concert you ever went to?
I've never been to one. If I did I would like to go to a Twenty-One Pilots concert.