#teamjoe Athlete – Emery Lehman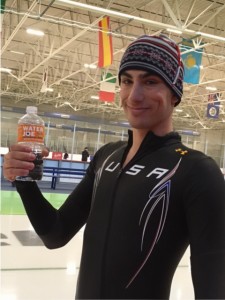 Meet Emery Lehman, US Olympian and #teamjoe athlete. Mom truly knows best in Emery's case. It's truly fascinating to watch this guy skate – he's fast!! Read below to see how Emery 'Joe's' and more!
What is your spirit animal?
Well I had to take a test online to figure it out because I never really knew what my spirit animal was, but I guess I am a Tiger.

Tell us about your family?
Currently, I live in Oak Park Illinois where my parents and brother reside. My brother and I both went to Oak Park and River Forest High School, he is a year and a half older than me. Currently, my mom works in Chicago for Hebrew University and my dad works for himself. While I was training for the last Olympics my mom took off from work to drive me to and from Milwaukee to the Pettit Center for practice to help with my athletic adventures. Both of my parents volunteer at the rink on the weekends, my dad referees and my mom works on the timing deck. My brother is a Tennis player at Lehigh University right now, he walked on to the Tennis team which is pretty awesome. We were always very close and pretty competitive with each other, however we did play different sports in high school.
If you could have one magical power, what would it be?
If I could have any power I would have the power of speed so I could run fast anywhere in the world.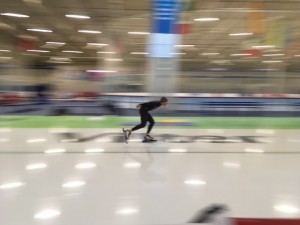 What do you want to be when you get big? What future aspirations do you have?
If I ever make it big I want to help the sport of speed skating grow. It used to be a pretty popular sport, obviously not as popular as any major sports, but over the last ten years or so it has slowly been getting smaller which I don't like to see. I'm hoping in the future that I can coach some other younger kids to reach an Olympic team and help them out.

Who is an inspirational person in your life right now?
Besides my parents, I am pretty inspired by Shani Davis, I am fortunate enough to train with him occasionally. I always looked up to him when I was younger and he is a really nice and down to earth guy. He has helped me a lot and shown me the ropes.
There are lots of funny trends currently, what is one that you wish would go away?
I wish the scary clown trend would go away, I am not very frightened of clowns usually but seeing some of these videos of clowns in the middle of corn fields chasing people doesn't look like much fun.
We all know how important nutrition is, what is one thing in regards to this that you can't live without?
One piece of unhealthy food I can't live without is an Italian sausage and Italian beef combo from Johnnies in Elmwood Park, IL. I always used to go there the Friday night before racing when I was living back in Oak Park.

How do you Joe? What is your favorite Water Joe recipe?
I love to put Water Joe in my smoothies!

What accomplishment are you most proud of?
My proudest accomplishment would probably be making my first Olympic team, it was a long and tough road. I know that if I never do anything else in my athletic career at least I checked that accomplishment off the list.
What is your zodiac sign?
Wow I had to google this one too, I am a Gemini.

If you could do anything adventurous right now what would it be?
If I could do anything adventurous right now I would want to take a road trip around the United States. With my tough training schedule (ten and a half months out of the year) it's hard to do anything spontaneous and on my own. I don't have any place in particular but I like traveling to new places and I have a sweet Pontiac Aztec, the same kind as Walter White, and we make a good team.
How did you get into your sport?
I got into speed skating because I was always a big hockey player. So, while I was at a practice at Franklin Park Ice rink, my mom saw a flyer for speed skating and decided to sign me up. I fought her pretty hard on going and especially on wearing a skin suit, but it turned out okay, so I guess my mother knows best.

Tell us about your athletic career?
I made my first junior world team when I was 14, and made five junior world teams total. Over the five years I have stood on the podium seven times, with one first place finish, and six third place finishes. I have made many world cup teams since then and qualified for world championships once. In 2014 I made the Olympic team and placed sixteenth in the 5000m and tenth in the 10000m and was the top American finisher in both.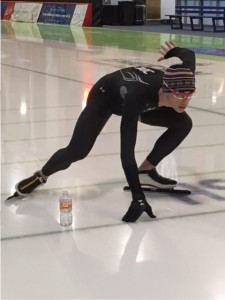 Are you involved in the community? What do you do?
While I was living in Oak Park, I volunteer at the food pantry and coached the Franklin Park club. When in West Allis I helping out with the West Allis speed skating club, I really enjoy working with the kids there. I also do motivational speaking at elementary and middle schools, wherever there are kids to listen.
What has been your favorite volunteer job?
My favorite volunteer job so far I have to say is coaching speed skating because I enjoy the sport a lot and like passing on my knowledge of the sport and like how rewarding it is watching others succeed and get faster.
What is the craziest thing a fan has ever done for you?
After the Olympics I had a girl make a video on YouTube asking me to prom, unfortunately, I couldn't make it but it was a well thought out video.