#teamjoe Athlete – Sarah Hallas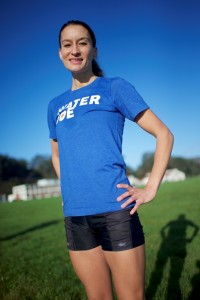 Sometimes things just happen for a reason. Meet Sarah Hallas, a professional marathon runner. A simple rejection at a young age positioned Sarah to find her passion. Her desire for greatness has allowed her to gain sponsorships and opportunities to do something she loves. Read on to learn more. #joendurance
What is your spirit animal?
A Horse
Tell us about your family?
3-brothers, 2 are half. 2-sisters, 1 is half and 1 is an identical twin. 2-amazing parents, an awesome fiancé and a 2 ½ year old boy
What future aspirations do you have?
I would love to do a few more Ironman races and MANY marathons. I also have dreams of someday opening a Doberman rescue center.
Who is an inspirational person in your life right now?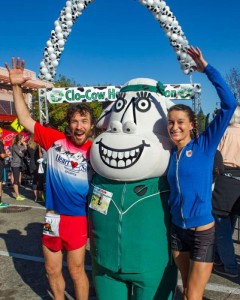 Sara Hall. I feel like I grew up with Sara since she went to one of our rival high schools. I was lucky enough to race with her for a year before I graduated. Following her career since then has been so inspirational. She recently stepped up to marathon distance, which means I see her even more!
We all know how important nutrition is, what is one thing in regards to this that you can't live without?
Fruit! I eat tons of it.
How do you Joe?
Sometimes you need a little pick me up. I love that I can get this without all the extras…sugar, artificial sweeteners, you know…
If you could do anything adventurous right now what would it be?
Swim across the bay to Alcatraz…again. I have only done it once and had a very rough start. I need a redemption swim. Despite the rough start, I truly loved the overall experience.
Where did you grow up?
Guerneville, CA
How did you get into your sport?
My twin sister and I grew up playing soccer, so it was a no-brainer that we would try out for the high school team. When we went to try-outs, our 85lb frames didn't even come close to measuring up to the other girls. By day three, the coach cut us both for being "too small" and, in doing so, probably spared us some serious potential injuries. Later that same day, my mom called the cross country coach to see if there was still time for me to run for them instead. I walked on as the #1 girl and it stayed that way till I graduated. My sister went on to play tennis instead. After high school, I received a scholarship to run for Chico State.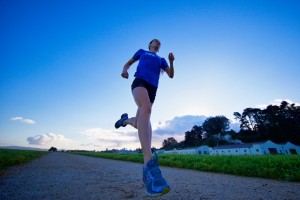 What has been your favorite volunteer job?
Sonoma County Animal Shelter where I used to walk/exercise dogs.
What is the craziest thing a fan has ever done?
A fan during a half marathon in San Diego, asked me out on a date mid-race.