#teamjoe Athlete – Tim Settles
Tim "Skittles" Settles is a professional Ultimate Frisbee player. He's a leader both in the Ultimate world and the average Joe world. Hard work, tenacity and perseverance personify this guy. Tim wants to do it, Tim gets it done. He's an inspiration for athletes young and experienced and continues to excel on and off the field. #teamskittles
What is your spirit animal?
Easy, Wolf
Tell us about your family?
I spent most of my childhood in the foster care system with two of my other brothers. We were all three adopted in middle school. My adopted parents had two biological children of their own. My family is pretty big, which always makes for entertaining family gatherings!
What do you want to be when you get big? What future aspirations do you have?
I want to be an example to young athletes. I know I have a good amount of young followers now, but I want to be able to be an example that kids can look up to and know that they can do anything that they work towards.
Who is an inspirational person in your life right now?
Most who know me would expect for me to say Kobe Bryant, but right now, I would have to say Damian Lillard. I love his competitive edge and mentality. He has been overlooked in a bunch of ways in the league and is constantly carrying a chip on his shoulder when he competes; and I feel like I approach my play in the same way.
There are lots of funny trends currently, what is one that you wish would go away?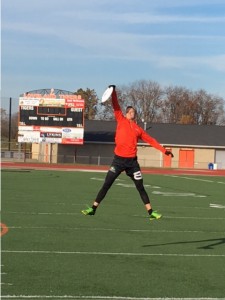 Dabbing, cannot stand it!
We all know how important nutrition is, what is one thing in regards to this that you can't live without?
Cheese, I put cheese on everything.
How do you Joe? What is your favorite Water Joe recipe?
My favorite way to Joe is before a workout. Gives me the hydration I need and a kick of energy to maximize my efforts.
What 'on the field' an 'off the field' accomplishment are you most proud of?
On the field: The first moment I played in a professional game. It was a realization that I achieved one of my biggest life goals.
Off the field: Everything I have accomplished to get to this point despite my childhood-two bachelor degrees, div 1 collegiate athlete, professional athlete, and successful business owner.
How did you get into Ultimate Frisbee?
I started really getting into it after college ended because it gave me an opportunity to compete at a very high level post college athletics.
Tell us about your athletic career?
Grew up playing just about every sport, but focused on track in college at Morehead State University. After getting engaged, moved out to Colorado where I really started getting serious about ultimate. I then moved back to Cincinnati in 2013 to sign with the Cincinnati Revolution in the AUDL.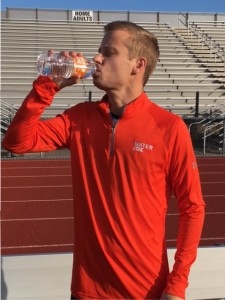 Are you involved in the community? What do you do?
I spent years working and serving low income families involved in the child welfare system. Over the past few years have volunteered running countless clinics for youth from middle school to high school as well as volunteered coaching for a couple of different high school teams.